Bei Man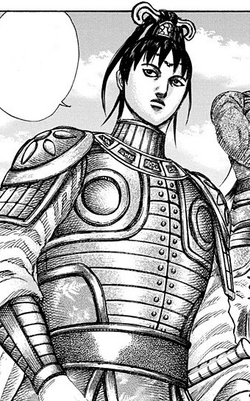 Biographical Information
| | |
| --- | --- |
| Status | |
| Marital Status | Single |
| Gender | Male |
| State | Chu |
Bei Man is a Chu Strategist and General and one of Kan Mei's vassals.
Appearance
Edit
He has long black hair that is tied and a clean shaved face. He wears the armor of a Chu General and isn't big as the other Chu Generals.
Personality
Edit
He joined the Chu Army at some point and became one of Kan Mei's vassals and one of his top strategists.
During the Battle of Kankoku Pass/Day 15 Bei Man was under the command of Kan Mei. After Kan Mei's death the army that he is leading was attacked but he orders a retreat and doesn't seem to participate in the rest of the battle.
Abilities
Edit
STATS
Strength
85
Leadership
87
Intelligence
88
Experience
B
Outfit: Appears Stiff
Nothing is known about his abilities except that he is a Strategic General.