Gou Ma Sho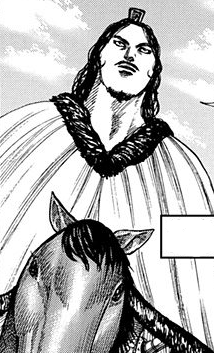 Biographical Information
| | |
| --- | --- |
| Status | |
| Marital Status | Single |
| Gender | Male |
| State | Chu |
| Location | Kankoku Pass |
Gou Ma Sho is a Chu General and Strategist, and one of Kan Mei's vassals.
Appearance
Edit
He has long black hair and a small beard. He doesn't seem to wear any armor.
Personality
Edit
Gou Ma Sho joined the Chu Military at some point and became a strategist and general under command of Kan Mei.
Coalition Invasion Arc
Edit
Battle of Kankoku Pass
Edit
Gou Ma Sho was under the command of Kan Mei. After Kan Mei is killed by Mou Bu, the rest of the army is attacked and Gou Ma Sho orders a retreat. It seems he doesn't participate in the rest of the battle.
Abilities
Edit
STATS
Strength
80
Leadership
86
Knowledge
89
Ad blocker interference detected!
Wikia is a free-to-use site that makes money from advertising. We have a modified experience for viewers using ad blockers

Wikia is not accessible if you've made further modifications. Remove the custom ad blocker rule(s) and the page will load as expected.