Kou
Chinese
Mao/Ang
Kanji
昂
Romaji
Kou

Professional Information

Classification
Infantry
Occupation
Soldier
Affiliates
Qin Military
Hi Shin Unit
Military Rank
Foot Soldier
Equipment
Spear
Kou
is an infantry soldier in the 
Hi Shin Unit
Appearance
Edit
Kou has the appearance of a young teenage boy. In the beginning he was dressed in common foot soldiers clothing. He now wears armor of a footsoldier like the rest of his unit.
Personality
Edit
Kou has a caring personality, he want to provide a good life for his mother that raised him. His goal is to move up in status to warrior class. He showed determination while hiding under corpses, he was stabbed but did not cry out in pain and remained silent.
Kou comes from Jouto village. Where he was raised by his mother. Kou is also one of the original 100 of the Hi Shin unit.
Kou has participated in every battle since the founding the Hi Shin Unit. He has learned a lot of joint locks from Kyou Kai. When the unit became a 1000 man unit and was having a losing streak he was the first to notice that Kyou Kai leaving was a huge loss to the unit. When Shin tried to argue about her contributions he pointed out that Kyou Kai was the one who came up with all their strategies and tactics. Everyone agreed and was shock to discover Shin and En were coming with the tactics causing their string of defeats.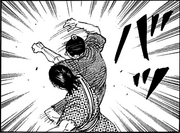 Abilities
Edit
Kou was taught joint locks by Kyou Kai.  
Kou and Kei mourn over Bi Tou's death
Kou with the others mourn over Bi Tou's death
Kou in Anime season 2