The Mou gou Army was the army led by general Mou Gou of Qin.
Achievements
Edit
Conquering 20 cities in Han
Conquering 16 cities in Wei before arriving at Sanyou region
Conquering the Sanyou Region
Personnel
Edit
Vice Generals
Edit
1000-man Commanders
Edit
Situational Members
Edit
Sanyou Campaign
Edit
Split his army in three and all advance at the same pace.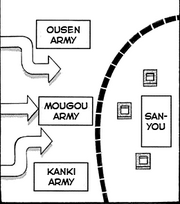 Ad blocker interference detected!
Wikia is a free-to-use site that makes money from advertising. We have a modified experience for viewers using ad blockers

Wikia is not accessible if you've made further modifications. Remove the custom ad blocker rule(s) and the page will load as expected.