Tou Kan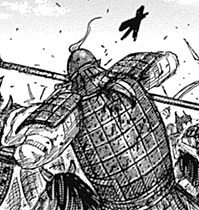 Professional Information
| | |
| --- | --- |
| Affiliates | Anka City |
| Political Position | City Lord |

Tou Kan was the lord of the Zhao city of Anka.
Appearance
Edit
Personality
Edit
Tou Kan ruled his city with an iron fist.
Tragedy of Rigan
Edit
Tou Kan made his first appearance as he went to war with Ki Shou, Lord of Rigan. Despite more than double amounts of soldiers fielded than Ki Shou and his army,. he and his army were pushed back due to Ki Shou's skillful command, formidable vassals, and well trained soldiers. He was later killed by Ki Sui, Ki Shou's son, at the battle of Tanko.
Abilities
Edit
Ad blocker interference detected!
Wikia is a free-to-use site that makes money from advertising. We have a modified experience for viewers using ad blockers

Wikia is not accessible if you've made further modifications. Remove the custom ad blocker rule(s) and the page will load as expected.